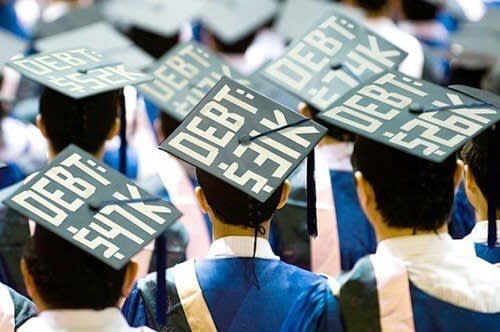 Misconceptions about Student Loan Forgiveness
March 27, 2020
Many college students take out student loans to cover the cost of tuition, classes, books, supplies, and living expenses. However, some of these individuals struggle to manage their finances and afford their student loan payments after graduation. For some students, their plan to eliminate education debt is by qualifying for student loan forgiveness.
Unfortunately, there are many misconceptions associated with relying on student loan forgiveness programs. If you are wondering whether student loan forgiveness is too good to be true, Kansas City-based law firm Stecklein & Rapp is here to provide answers to your questions and clear up the misconceptions.
Common Misconceptions about Student Loan Forgiveness
The idea behind student loan forgiveness programs is that college students make payments on their student loans for a specified period of time. Once they meet certain qualifications, the remainder of the debt will be erased. Actually, the program will look rewarding to the borrower. However, there are several terms and conditions that have to be followed. Failure to do so could cause serious financial problems and end up costing graduates in the long run. Let us consider the cautionary tale below.
A Student Loan Forgiveness Nightmare
Jed Shafer received nine refund checks indicating that he was finally done with his student loan repayment. He had succeeded in getting the loan forgiveness provided by federal law for public servants. The checks from the United States Treasury were able to cover his loan balance.
After some months, Mr. Shafer wanted to apply for a store credit card but was denied. Unknown to him, FedLoan, the loan servicer for public servants in the forgiveness program, left a dent on his credit rating. He later found out that his credit score had fallen to between 125 and 150 points because the loan servicer marked him 120 to 180 days late on his loan payment.
Although Mr. Shafer was later able to resolve the issue and his FICO credit scores improved, this indicates that there are issues with credit reporting for servicers of student loan forgiveness programs. Even if you succeed at getting public service loan forgiveness, ensure that you check your credit reports before assuming that your student loans have truly been forgiven.
More Student Loan Forgiveness Misconceptions
Misconception #1: Everyone is Eligible for Student Loan Forgiveness
Students can become eligible for student loan forgiveness programs under certain conditions. However, it is wrong to automatically assume that every student is eligible for the forgiveness program. These student loan forgiveness programs usually apply to specific loans and professions and have specific circumstances that the student will be required to meet.
Misconception #2: Public Service Professions Are Automatically Eligible
According to the Office of Federal Student Aid, "The Public Service Loan Forgiveness (PSLF) Program forgives the remaining balance on your direct loans after making 120 qualifying monthly payments under a qualifying repayment plan while working full-time for a qualifying employer or employers."
However, these requirements have certain criteria attached to them. Simply becoming a government employee, a teacher, a member of the Peace Corps, or an employee of a non-profit organization does not mean you automatically qualify for student loan relief.
Misconception #3: Loan Forgiveness Can't Be Withdrawn Once Approved
Another common misconception is that once loan forgiveness is approved, it cannot be rescinded. As reported by The New York Times, a legal filing by the U.S. Department of Education suggested that loan forgiveness approvals issued by FedLoan are subject to rescindment. There have been lawsuits regarding this particular issue.
When Does Your Situation Call For Legal Representation?
Being buried in student loan debt can be worrying. This is why some graduates secure a path to loan forgiveness after a certain period of faithful payments. However, if you're dealing with a complex or difficult issue such as a dispute with your loan servicer, or you're being harassed by a debt collection agency, hiring an experienced attorney can be your best option.
The skilled team at Stecklein & Rapp can explain your legal rights and options to you. We serve clients in Kansas City, Missouri; Kansas City, Kansas; and Lincoln, Nebraska, as well as all of Eastern Kansas, Western Missouri, Colorado, and Nebraska. Regardless of which area you live in, we can help you make sense of the whole student loan issue and determine the best strategy for your specific student loan forgiveness situation.
Consumer Credit Protection Attorneys in Kansas City, Missouri
When a difficult issue such as a dispute with your loan servicer arises, you may be unsure of where to turn. For over 20 years, the knowledgeable team of consumer credit attorneys at Stecklein & Rapp has been offering legal guidance and representation for individuals dealing with a variety of student loan issues. You don't have to face the problem alone. Our experienced team of attorneys is always ready to fight on your side.
Do not hesitate to call our team whenever you need legal guidance for your student loan forgiveness issue. Our attorneys will work on your behalf to resolve the issue and make things right.