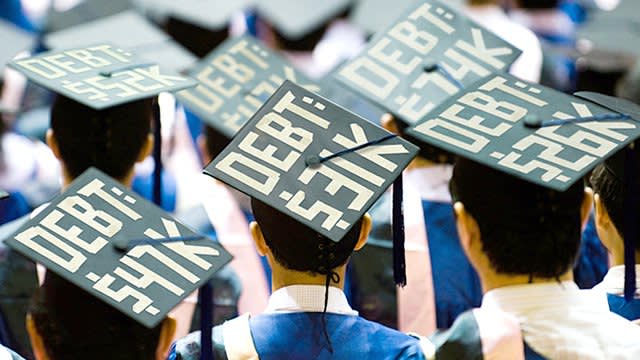 Are students being targeted by lenders?
April 24, 2017
It takes a while to decide what you want to do with your life. It takes even longer to make it happen. For many people, that starts with an education. Imagine you've just decided where you want to go to school, now you have to figure out how you are going to pay for it. For many Americans, that means taking out student loans. Of course there is nothing to worry about, right? Colleges and the Department of Education would only deal with the most reputable companies, right?
Students are in a vulnerable situation. Most students, young or returning, require loans to get the education they need. Ashley Hardin is a good example of this. She took out loans from a company called Sallie Mae, now known as Navient. A sum of $150,000, in private loans, in pursuit of a degree in photography. "Brooks was advertised as the most prestigious photography school on the West Coast," Ms. Hardin said. "I wanted to learn from the best of the best." Ms. Hardin did not realize that she had taken out high-risk private loans in pursuit of a low-paying career.
Ashley Hardin isn't alone. Students in the United States owe $1.4 trillion dollars in student loans! That is more than the total amount of all American credit card debt. As college gets more expensive, the job markets tighten and these loans are made without the companies examining if the students can afford them or not. Quick reminder: student loans are underwritten with tax payer money.
A group of states have now sued Navient claiming that they operate as a predatory lender. The details of the case are starting to come to light. It appears that Sallie Mae, as a business practice, made these student loans— some of which it expected failure rates as high as 92 percent — establish relationships with colleges and universities across the country. In other words, they were making a profit by giving out risky loans backed with tax payer money. If you think that sounds a little like the Mortgage Crisis that led to the Great Recession, you are not alone.
Read more: