WE HELP WITH
Identity Theft or something wrong on your credit report or background check
IDENTITY THEFT LAWYERS IN
THE AMERICAN HEARTLAND
Dedicated
While laws are meant to protect the masses, they're not written for mass consumption. Understanding how to apply them — you need an experienced professional for that. That's where we come in.
WE MAKE SURE YOUR CREDIT
REPORT IS
Accurate
Stecklein & Rapp is a consumer credit law firm devoted to protecting Kansas, Missouri, Nebraska and Indiana consumers who have suffered due to credit errors and Identity Theft. We want to set the record straight for you.
Nobody is immune to credit reporting errors and harassment
Serving in the military after 9/11 meant attorney Michael Rapp and his family moved often. It also led to power bill debt in his name that didn't belong to him. Even when he repeatedly disputed the utility charges for a home he had left after being deployed, the debt remained.
"The power bill just wouldn't go away. I had so much trouble, I thought there had to be a law against that. I was right," he said. It's because of this experience that Michael and A.J. Stecklein are passionate about correcting the mistakes unfairly attached to the reputations of their clients.
With 20 years experience making sure your credit is right.
Let's correct your credit
At Stecklein & Rapp, our attorneys can walk you through the various laws that offer protection for you and your credit, and provide you with freedom from any undeserved and unwarranted harassment and abuse.
I was very impressed by Michael and the time spent on my case. Michael is very efficient and a trusted attorney, who only works with your best interest in mind. I would highly recommend Michael to anyone who wants an attorney who gets winning results on their case.
–Michelle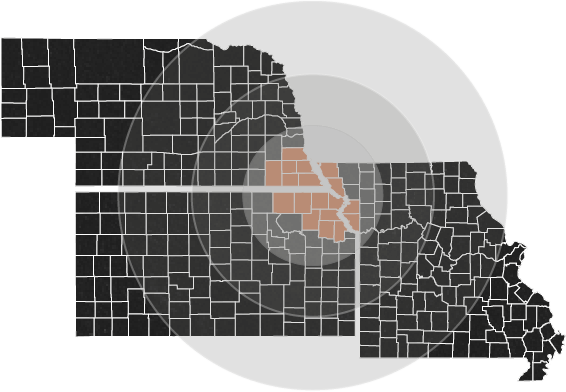 Areas We Serve
Kansas City, Missouri
Our City of Fountains office is located in Westport, just a few minutes north of the Plaza so you can easily access us from anywhere in Kansas City.
Kansas City, Kansas
Just over the state line is our KCK office located in Strawberry Hill right off of Highway 69. If you're a Kansas resident, this may be more convenient for you.
St. Louis,
Missouri
We offer our services in St. Louis Missouri for anyone who might be out of greater Kansas City. Contact us today if you're in the Gateway to the West.
Omaha, Nebraska
Located a few hours north of Kansas City, Omaha is home to the University of Nebraska, Lincoln, and the famous Henry Doorly Zoo.
Read Our Blogs

Latest Phishing Scheme Targeting Unemployment Benefits
Becoming a victim of any type of fraud, scam, or phishing scheme is never pleasant. If you have fallen prey to a scam involving unemployment benefits or other types of public assistance, you might feel angry and embarrassed.
READ MORE

Online Identity Theft
In today's digital world, the internet has made it easier for people to have access to information, services, and platforms. While the internet offers numerous benefits, your personal information could fall into the wrong hands or be compromised.
READ MORE
PROTECTION FOR KANSAS & MISSOURI CONSUMERS
Speak with us, and we'll speak up for you.
Just because some businesses operate with a loose sense of the law does not mean you have to put up with their abuse. There's a lot more protection out there than you may realize. In founding Stecklein & Rapp, our attorneys aim to help consumers find relief from the questionable practices and shady dealings of businesses toward Missouri residents from Kansas City to St. Louis. Whether it's a debt collector harassing you or a creditor failing to accurately report a discharged debt to the credit bureaus, Stecklein & Rapp will put an end to it.
Our attorneys have successfully handled consumer protection cases in the Kansas counties of Johnson and Wyandotte and the Missouri counties of Jackson and St. Louis . There are federally granted laws - the Fair Debt Collection Act, Fair Credit Reporting Act and Telephone Consumer Protection Act - that we use to level the legal playing field when it comes to how you're treated by businesses and fraudulent individuals. If you're unsure of how these laws apply to your situation, call our office to schedule a cost-free analysis of your consumer credit issue.